Association Event Experts with 20+ years experience
We help you to improve speed and efficiency, enhance delegate accessibility and support the delivery of sustainable event practice.
We deliver a wide range of in-person and virtual association events
We know the massive role that events play in retaining and building association membership – professionally, culturally and economically – and developing your association's profile, influence and credibility by delivery an enhanced event experience is imperative.
At MICE Concierge, we specialise in event logistics and onsite services, and we can provide the framework for your event delivery. We combine our extensive knowledge and on-the ground experience, with the latest event technology, and a range of plug-in sustainable products to help you build a solid foundation for your event.
Maximising Event Value Through Efficient Partnerships
These days it's true that tighter budgets and limited resource can create challenges for in-house teams, but with our partnership philosophy and ability to deploy the latest event tech (or we can use yours), we can help you to improve speed and efficiency, enhance delegate accessibility and support the delivery of sustainable event practice. 
All of this can result in greater engagement, better attendance, the delivery of an enhanced event experience AND the value your membership deserves.
Maximising Event Value Through Efficient Partnerships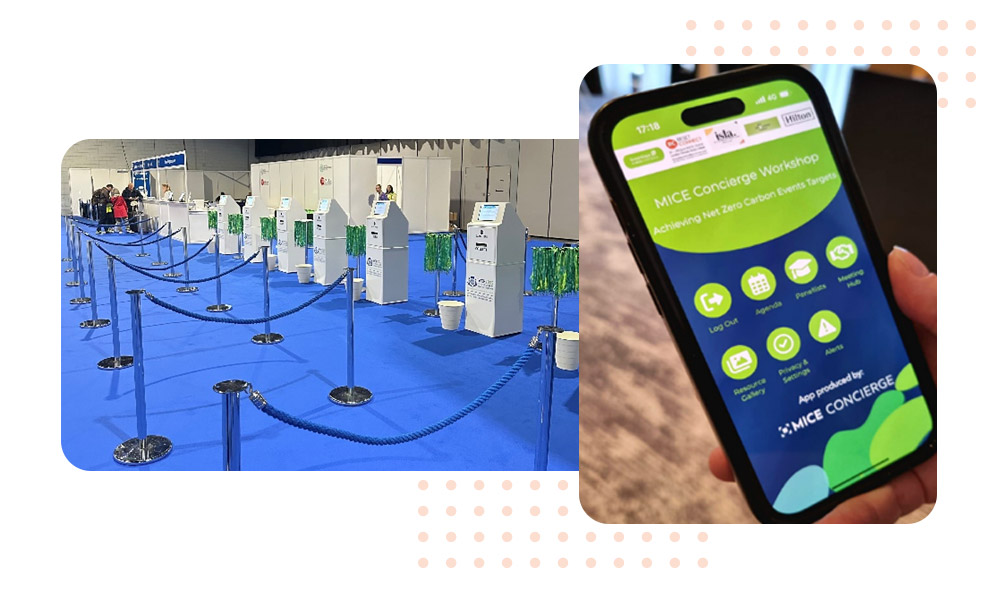 Reduce the carbon impact of your event by using our self-check-in and badging kiosks and flexible and cost-effective event apps.
Our experience team can deliver a wide range of services, and you can choose one, some or all of these because we are event partners not a PCO
Web page design & build, online registration process (multi-lingual), first date/invitation, polls & surveys and asset uploads.
Venue Search & Negotiation
Looking for a home for your next national or global congress? As accomplished venue finders and negotiators, we'll ensure your contract is on the most favourable terms.
Aligned to venue search, we are happy to book and manage extensive accommodation solutions for a wide range of audiences
Registration desks, manual badging and self-check-in/badging kiosks, dine-arounds and on-site travel management. Very experienced teams, partners, collaborators and solutions finders.
Our teams are proficient in producing simple and complex event apps, that are accessible, engaging, reflect your event theme, provide interaction and content customised to your brief.
This year we have delivered over 80 online solutions; from global training programmes, specialist master-classes and quarterly leadership meet-ups.
Design and management of exhibition framework and content, liaison with suppliers and contributors
Our Green Days Initiative means we offer a range of sustainable products including an accommodation option, carbon offset monitoring and management, and self-check-in badging kiosks for larger events.
Event Promotion & Communications
We can support with a range of communications solutions including event branding, graphics development, multi-channel campaigns, large format onsite graphics, event content including PowerPoint and video production.
We are proud to say that MICE Concierge Teams are collaborators, partners and event specialists who can help you deliver a better event solution, but don't take our word for it. We currently work with a wide range of professional and trade associations, and this is what they have to say:
Having MICE Concierge in place worked really successfully. They're very supportive, the lines of communication are always open, and they manage expectations honestly. Don't hesitate!
They're a really strong and responsive team, and great at managing admin, especially for smaller teams like ours. Overall, they're an effective tool for helping you achieve your event objectives.
We've had nothing but a good experience. From contracting to communications, and moving deadlines along, they're a joy to work with.
I can't speak highly enough of MICE Concierge. They're great to work with. I'd recommend them to other teams who, like us, need help with the technical side of delivering impressive hybrid and virtual events.
Crucially the production quality was well-liked by our internal executives, which is always a tremendous relief.

The Latest News & Insights From MICE Concierge